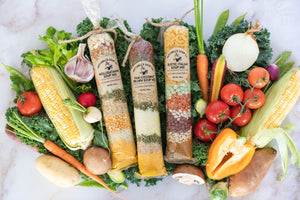 Hearty, dried meals for the whole family
How do you work a 9 to 5, chauffeur the kids to after-school practice, and still get a healthy, handmade meal on the table in 30 minutes flat? Spoiler alert: You don't.
You can't do it all—but we're here to help. Inspired by the craftsmanship of days gone by (and our own mothers' home-cooked meals), we bring you Mitchell's: Hearty, dried meals with a fraction of the prep time of your grandma's beloved lasagna (and at a fraction of the price of takeout). All the nourishment, none of the headache. Just satisfied taste buds and bellies.
Our Ingredients
Delight your taste buds and nourish your family!
Thoughtfully Sourced
We source ingredients both locally and further afield to honour international cuisines.
Nutrient-dense
From dried barley and beans to chickpeas and lentils, our ingredients are nutrient-dense.
Perfectly spiced
The secret to our delectable homemade meals? Perfectly balanced herbs and spices.

HOW OUR MEALS ARE MADE
By hand, with heart
It may not be the easy way, but it's our way: Forgoing modern technologies and mass production for the craftsmanship of days gone by.
Every Mitchell's meal is made by hand—slowly and intentionally, just like mom used to make. Because we know from experience: Good things take time. The good news is: We take the time, so you don't have to. From hand-measuring ingredients to tying every bag with twine, the love and care you remember from childhood meals is the same love and care we put into our meals.