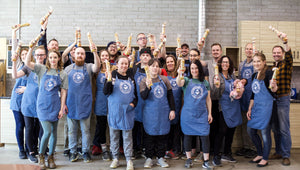 It all started with our matriarch, Donna.
In preparation for the impending Y2K apocalypse, Donna stocked up on dried goods for the Lockhart family. But when the clock struck midnight and the world kept turning, she had to do something with her emergency supplies. So, she started filling them in cellophane bags to sell as ready-to-cook soups at her local farmer's market soap stand—yes, soap not soup!—in Duncan, British Columbia, Canada.
Fast forward to 2008: Donna's son Jamie inherited her humble soap-turned-soup stand. But what started as a family project to teach Jamie's four kids life skills turned into a passion project: Jamie loved crafting products that nourished the body and soul, and so Mitchell's Soup Co. was officially born. Today, hearty, dried meals are more than our business—they're our heart.
Did you know?
Named after our founder Jamie's eldest son, Mitchell's Soup Co. is a family name, representing the foundations our business was built on: Family values and relationships that are as hearty as our soups.
Our Founders
Three generations of Lockharts
What started as a humble soup stand at a local farmer's market is now a dinnertime staple in homes across Canada. The original concept was courtesy of Donna, the matriarch of the Lockhart family and the unofficial founder of Mitchell's Soup Co. When her son and our founder, Jamie, took the reins on her little stand that could, he saw its potential and incorporated the business, embodying her artisanal touch on a larger scale. Even Jamie's four kids have all played a hand in the family business!
Mitchell's on the move
The Faris Family
Family friends Paul and Suzanne Faris partner with The Lockharts and bring Mitchell's to its new home sweet home in Ontario. They open a production kitchen in St. Thomas and introduce our handmade artisan soups to many new customers and friends. Along with involving their four girls in the venture, they bring two of Paul's brothers and his Dad into the fold making that 3 generations of the Faris family too! Big changes were in store and they spearheaded the move to a production kitchen we can grow into, just down the road in Aylmer.
But our business isn't just about OUR families: We couldn't do what we do without our second family, the artisans who put their heart into every Mitchell's meal we make.
Who We Are
Local roots, international flavours
While our recipes may be inspired by the flavours and aromas of international locales, our team has roots in the Great White North, from Vancouver Island to the Maritimes. We're proud to be Canadian, sourcing ingredients as close to home as possible and nourishing relationships with other Canadian businesses who live for local, too. Whether it's our in-house team or our local grocers, relationships are at the heart of everything we do.